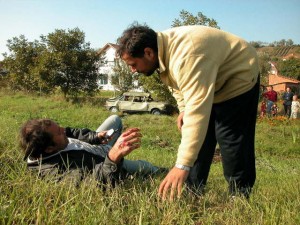 A Reputable DUI Accident Attorney in Philadelphia Area
More than 17,500 people are killed each year in DUI-related auto accidents, according to the National Highway Traffic Safety Administration. In most cases, the intoxicated driver does not suffer the serious injuries. Typically, the passengers, occupants of another vehicle, or pedestrians are the ones who suffer the major injuries.
You Have the Right to Recover Damages
People who operate an automobile while under the influence of alcohol or drugs are susceptible to arrest for criminal charges or sanction, whether they caused an accident or not, from the state department of transportation. If you or a loved one has been in an auto accident with an inebriated driver, you have the right to pursue a private lawsuit against the intoxicated driver to ensure you recover the damages you have incurred.
Joe Mitchell Knows There's A Lot at Stake
Personal injury Attorney, Joe Mitchell, has more than 20 years of experience with representing DUI accident victims in the Greater Philadelphia area. He understands your rights, and will fight aggressively to recover the damages and compensation you are entitled to. Attorney Joe Mitchell will work with your doctors, long-term care planners, and psychologists to ensure you are getting back what you deserve.
Damages and Compensation Recovery Includes:
Medical expenses
Hospital bills
Rehabilitation expenses
Lost earning, future wage losses, and lost earning capacity
Physical disabilities, scars, brain and head injuries, and loss of limb(s)
Emotional distress, grief, anxiety, and pain and suffering
Get the Ball Rolling Now!
You do not need to wait around before you file a lawsuit. If you or a loved one has been injured in a DUI accident, you deserve immediate compensation for the damages and pain you have suffered. Give Attorney Joe Mitchell a call now at (267) 627-4JOE (267-627-4563) to get started with your initial, FREE consultation. He will help you get moving in the right direction quickly.