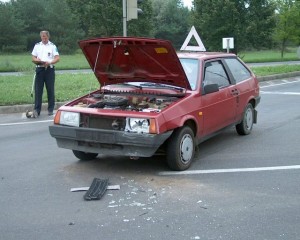 Call a Top Rated Hit and Run Accidents Lawyer to Get Started
Auto accidents in Philadelphia are stressful, but even more stressful when you cannot find the other vehicle. Hit and run accidents occur when the vehicle that collided with you drives away and is nowhere to be found. Most insurance companies require you to file a claim for a hit and run accident within just a few short weeks. Personal injury attorney Joe Mitchell knows the ins and outs of the law and can help you obtain the compensation you deserve. In some cases, you can even recover compensation from your own insurance company. Attorney Joe Mitchell will help you get to the bottom of things at a rapid speed.
You Have to Prove It
When you are involved in a hit and run, you have to prove the other motor vehicle operated can't be identified. You will also need to prove the other driver was the one at fault for the accident. You are also required to show proof of the monetary value of your claim. Attorney Joe Mitchell will conduct a thorough investigation into your claim to be sure you recover every penny you are entitled to in your uninsured motorist claim.
Attorney Joe Mitchell Keeps Your Best Interest in Mind
Hit and run accidents cases are not typically heard in a local court. Most uninsured cases are heard before a panel of three arbitrators. One arbitrator is for the insurance company, one is chosen by your attorney, and the other two arbitrators choose the third. Attorney Joe Mitchell has worked with countless arbitrators throughout his professional career, and knows how to find the best fit for your case. Once your case has begun, the arbitrators will carefully listen to your case and reach a decision together.
Call Now to Get Started
You need your hit and run accident handled quickly. Personal injury attorney Joe Mitchell is committed to fighting aggressively for every case he takes on. If you have an uninsured motorist claim, you need to call attorney Joe Mitchell in Philadelphia now at (267) 627-4JOE (267-627-4563) to get started with your FREE consultation. No matter how easy or complicated your case, you are GUARANTEED to be pleased with the result.